Crest at Skyland Town Center Apartments has officially begun leasing! After months of anticipation, the time has finally come for future residents to lock down their apartment homes formally. The Crest is highlighted by breath-taking apartment features, including spacious closets, kitchen islands, stainless steel appliances, and balconies in select floor plans. 
Outside the four walls of your apartment, residents will have access to super convenient building amenities that are perfect for many lifestyles. Some building features include a resident lounge area, a resident courtyard area with grilling stations, a pool, and pet areas, including a wash station and dog park.
As you prepare to officially start the process of moving into your ideal apartment home, here are some frequently asked questions that will keep you abreast of everything that you need to know ahead of the pre-leasing application process.
Are there affordable units at Crest?
Yes. Crest at Skyland Town Center has apartments set aside for residents making 80% and 120% of the area median income. We are proud to participate in this city-wide program to increase the supply of affordable housing in the District of Columbia. If you are interested in learning more about the income requirements or applying for one of these apartments, please read through the FAQs below and then reach out to the leasing office at 202-964-6902.
What are the income requirements for an affordable unit?
The minimum and maximum incomes for the apartments are outlined in the chart below. Please note the numbers represent *total household income*.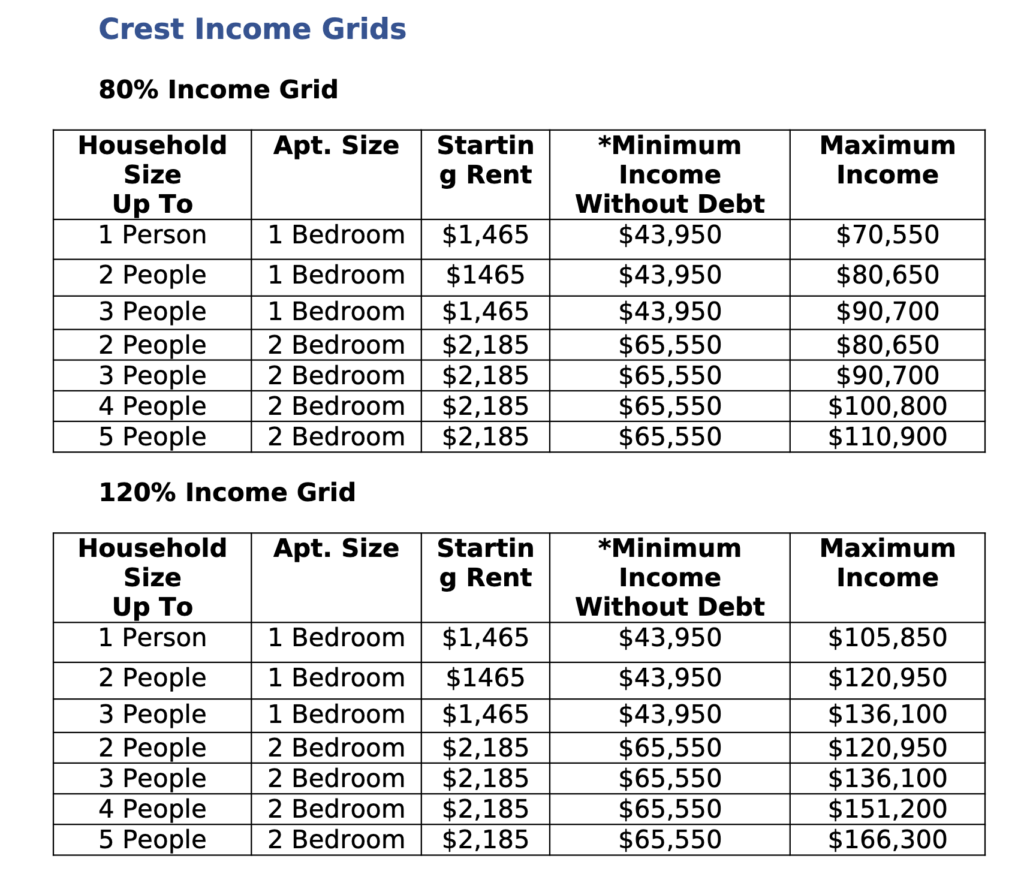 What size are apartments affordable apartments?
We have studios, one, and two-bedroom apartments available.
Do you accept vouchers?
We accept vouchers, subsidies, and all rental assistance forms provided by the District of Columbia or the Federal Government.
What utilities am I responsible for?
At Crest at Skyland Town Center, our residents are responsible for electricity.  You are responsible for setting up an account and will be required to provide the account number before your move-in. If you would like cable and internet, you are also responsible for setting up those accounts.
Are you looking for an apartment community that has all utilities included? Click here to search other WC Smith communities that offer all utilities included.
Is there an application fee?
Yes, there is a $50 application fee per applicant 18 years of age or older at Crest at Skyland Town Center. The fee covers the cost of background screenings.
Background screenings include a credit check, criminal background, and eviction records.
What information do I need to apply for an apartment?
Photo Id (government-issued)
Proof of income (3 most recent paystubs, offer letter, latest W-2 or 1099)
Can I apply for my new apartment online?
Yes! To begin your application online, simply go to CrestDC.com and click on Floor Plans. Find your perfect fit, and then click the apply now button. Follow the instructions on the screen to register and start your application.
What is the cost of my security deposit?
The standard security deposits at Crest at Skyland Town Center are:
$500 up to one month's rent
Is there parking available at Crest at Skyland Town Center?
Yes, Crest at Skyland Town center has assigned parking available for $135 a month.
Inquire about current availability when you schedule your tour.
Does Crest at Skyland Town Center offer package receiving?
Yes, our 24-hour concierge will gladly accept packages on your behalf. You will be notified via the resident app that you have a package and it will remain secured at the front desk for you to retrieve upon returning home.
Does Crest allow pets?
The crest is pet-friendly! Up to two pets are allowed per apartment. You will pay an upfront, non-refundable fee of $500 for each pet. We do not charge any pet rent. There are weight limits and some breed restrictions. The maximum weight allowed is 70 pounds. Restricted breeds include the following:
Akita, American Bulldog, Anatolian Shepherd, Australian Cattledog, Beauceron, Belgian Shepherd, Bernese Mountain Dog, Black Russian Terrier, Cane Corso, Catahoula Leopard Dog, Chinese Shar-Pei, Chow-Chow, Doberman Pinscher, Dogue de Bordeaux, German Shepherd, Great Dane, Great Pyrenees, Husky, Jindo Dog, Kuvasz, Malamute, Mastiff, Pit Bull, Presa Canario, Rhodesian Ridgeback, Rottweiler, St. Bernard, Tosa Inu, Wolf, Wolf-Dog Hybrid.
How do I schedule a tour?
Crest at Skyland Town Center will open for in-person tours in April. We will offer tours seven days a week. Give the office a call at 833-799-1459 to schedule your tour today!
When can I move in?
We are now accepting all new residents! Please review the availability date of the apartment floor plan you're interested in and we will be happy to help you from there!
Do I need to have renters' insurance?
Every resident is required to show proof of their renters' insurance policy before indicating at least $100,000 in personal liability coverage.
Is Crest smoke-free?
Yes, Crest at Skyland Town Center is a smoke-free community. That means smoking is not allowed anywhere on community grounds, including courtyards and balconies or within 20 feet of the building doors.