Three Soup Recipes for a Cozy Winter Treat
We're in the throws of winter which means it's prime soup season, and what better thing to have than a piping hot bowl of soup after a cold DC Winter's day? Not only are soup recipes super easy to prepare, they make fantastic leftovers for that grab and go lunch for work, or even just to have on hand. Read below to learn about our three favorite soup recipes this winter: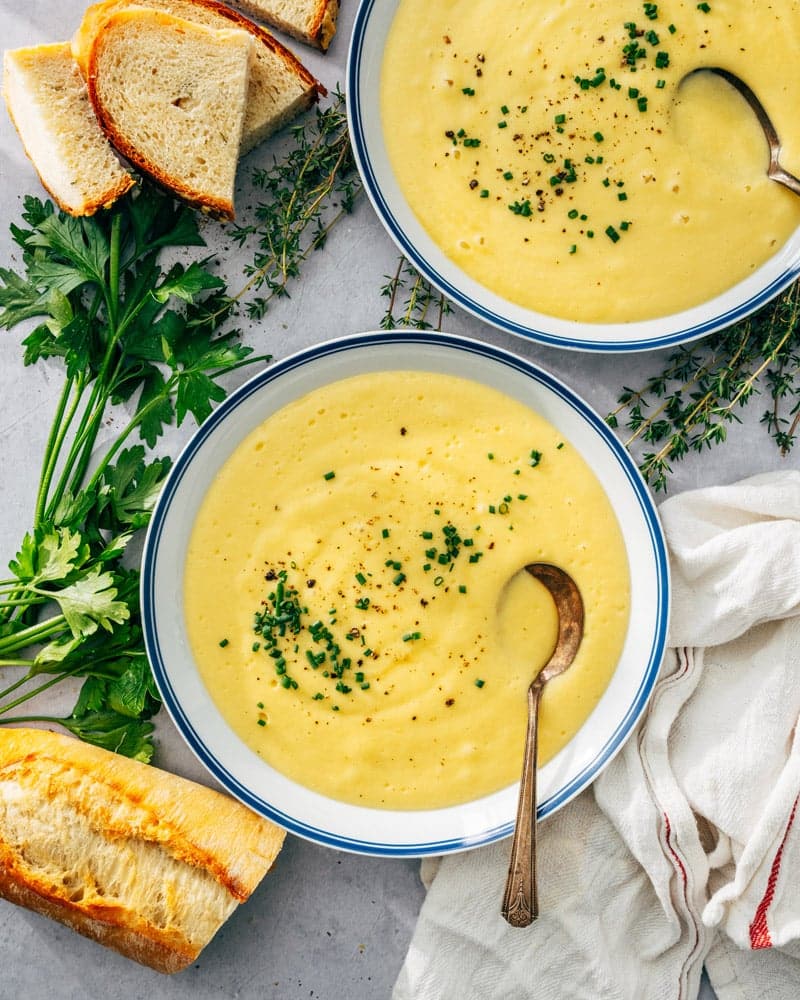 3 tablespoons salted butter (or olive oil)
2 large or 4 small leeks (4 cups thinly sliced), white and light green parts
3 celery ribs
3 garlic cloves, minced
2 pounds russet potatoes, peeled and small diced (5 cups diced)
4 cups vegetable broth or chicken broth
1 cup water
3 sprigs fresh thyme (or make a bouquet garni)
1 bay leaf
1 ¼ teaspoons kosher salt
½ cup heavy cream
Chives, for garnish
In a large pot or Dutch oven, melt the butter over medium heat. Add the leeks, celery and garlic and cook, stirring occasionally, for 7 to 8 minutes until the leeks are very tender but not browned.
Add the chopped potato, vegetable broth, water, fresh thyme, bay leaf, and salt and bring to a simmer. Simmer for 20 minutes until the potatoes are tender. Remove the thyme and bay leaf.
Transfer to a blender and blend until smooth. Add the cream and blend again. Taste and adjust seasonings as desired.
---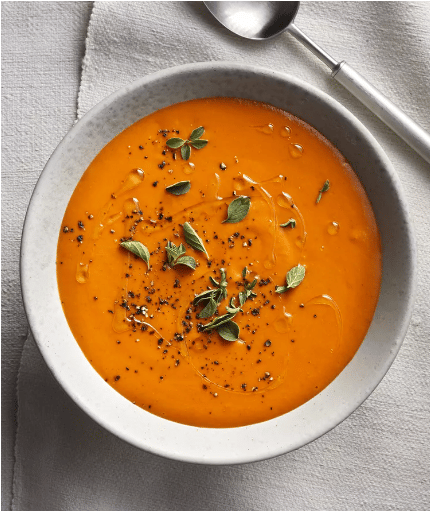 4ounces French bread, crust removed, soft part cut into 1-inch cubes (about 1¾ cups)
1cup unsweetened rice milk or unsweetened almond milk

¼cup plus 2 tablespoons extra-virgin olive oil, divided

1medium yellow onion, thinly sliced
3cloves garlic, thinly sliced
1teaspoon fresh oregano leaves, plus more for garnish
1(28-ounce) can whole peeled plum tomatoes
1teaspoon kosher salt
½teaspoon freshly-ground black pepper
1tablespoon Champagne vinegar
Soak bread in milk until very soft, about 5 to 10 minutes.
Meanwhile, heat 2 tablespoons of the oil in a Dutch oven over medium. Add onion, garlic, and oregano; cook, stirring occasionally, until softened, about 8 to 10 minutes. Add tomatoes and cook, stirring to crush tomatoes, until slightly thickened, about 15 minutes.
Transfer tomato mixture to a blender; add bread mixture, salt, pepper, and remaining ¼ cup oil. Process until creamy and smooth, about 1 minute. Pour back into Dutch oven; stir in vinegar. Serve hot, garnished with more oregano.
---
2tablespoons butter
1cup chopped onion
1cup diced carrots
1cup diced celery
2large boneless skinless chicken breasts , diced into bite-size pieces
2 14.5-ounce cans chicken broth , (or 4 cups / 1 quart homemade chicken broth)
1package (6 ounces) long-grain wild rice , (such as Uncle Ben's minus the seasoning packet)
1tablespoon chopped parsley
1teaspoon kosher salt
½teaspoon freshly ground black pepper
Dash of red pepper flakes
2tablespoons cornstarch
4ounces cream cheese , cubed
1cup milk
1cup half-and-half
1tablespoon lemon juice
Freshly ground black pepper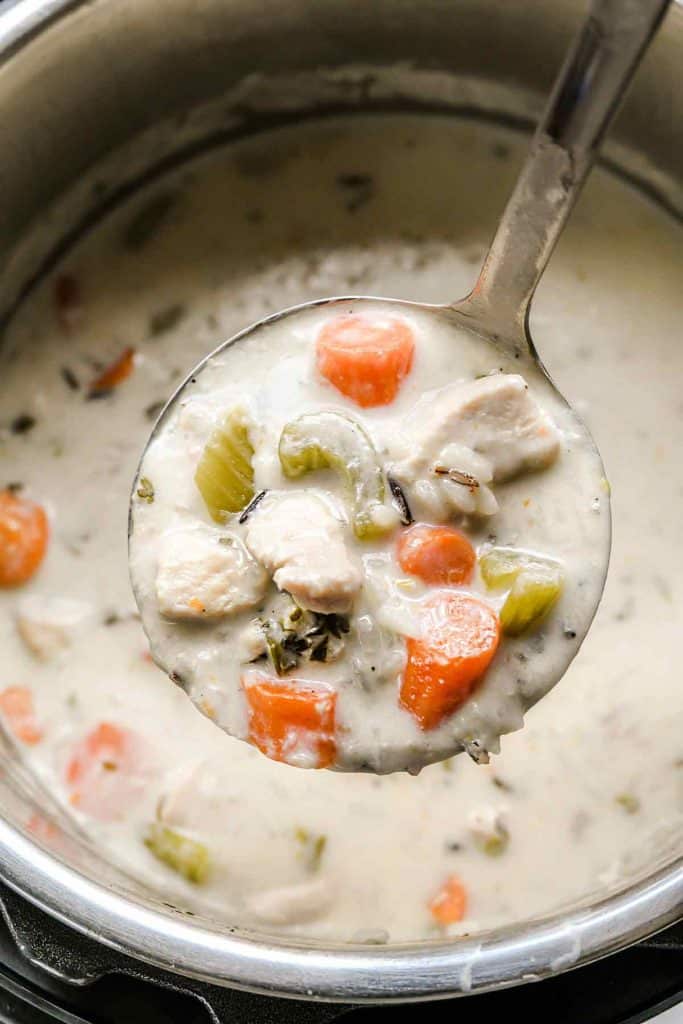 Select Browning/Sauté function and melt the butter in the pressure cooking pot. Add the onion, carrots, and celery and sauté for about 5 minutes, stirring occasionally, until the vegetables are tender.
Stir in the chicken, chicken broth, rice, parsley, salt, pepper and red pepper flakes. Lock the lid in place and select High Pressure and 5 minutes cooking time.
When the cook time ends, turn off the pressure cooker. Let the pressure release naturally for 5 minutes (just let it sit, the steam will escape on its own), then finish with a quick release (be cautious and use a wooden spoon to shift the pressure relief valve so the hearty blow of steam escapes.)
In a small bowl, whisk the cornstarch and cold water until smooth. Select Simmer/Sauté and add the slurry to the pot stirring constantly. Sir in the cream cheese until melted. Stir in the milk, half-and-half and lemon juice and heat through (do not bring to a boil). Serve sprinkled with more parsley and black pepper if desired.
---
Looking to show off your soup skills? Look into hosting a soup potluck with your friends in one of our amenity spaces!